Eighty-five dogs have recently been rescued from the canine meat market in South Korea where consumers can pick live animals in cages for slaughter on request.
The puppies, who are mainly Korean Jindo crosses, have been saved by a group of charity staff as the entire market has been forced to close.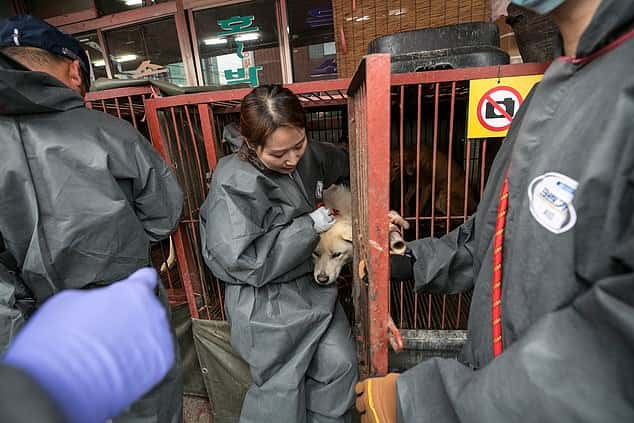 The scared animals were so afraid they cowered in their cramped cages and had to be dragged out violently. Now they're put in temporary shelters.
Those dogs had lived in cages all their lives. These were born and bred solely for the meat market.
The Gupo market has been shut down, as it now is a public park.
Nara Kim, a dog meat activist for Humane Society International (HSI), said: 'We have stood for decades as a very public example of the sheer brutality of the dog meat industry, with live dogs displayed in street cages for shoppers to pick for electrocution slaughter.
'The closing of Gupo's dog meat market means the end of a gruesome period in the history of dog meat in South Korea, and a
sign of the times when law enforcement and local authorities are cracking down on this highly controversial industry which most Koreans want nothing to do with.
'I know we have a long way to go to end the dog meat trade here, but even two years ago I would never have believed we would see such progress.
'It has been a pleasure to work with the Busan authorities, and especially in being able to save the last remaining dogs we found alive.'
Kim Ae-ra, president of Busan Korean Alliance for Prevention of Cruelty to Animals, said: 'We started anti-dog meat protests in front of Gupo dog meat market for the first time in 2007 and so we are deeply moved that the market will be the first complete shutdown of its kind in Korea.'
Source – Daily Mail – dailyfeeds.social